Just when you thought Rihanna had topped the lot with her shocking grey ombre reveal last month, she's hit us with yet another unexpected hairdo.
Showing off her new style in a sultry Instagram snap, the Diamonds singer debuted her latest Ri-Ri evolution this week and we have to say it's her cutest look to date.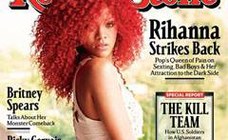 Chanelling a young Whitney Houston, Rihanna dons a bare face, slouchy boyfriend jumper and tight afro curls as she gazes wistfully down the camera lens.

© Rihanna Instagram
Rihanna's never seen before hair: Her natural locks
In another shot, she gets her sulky pout on with her Ri-Ri Woo lipstick, which somehow manages to look even better on her now she's gone all cropped and curly on us.
The 25 year-old singer said: "Still tryna get used to my hurr, so I threw on some #redlipstick #RIRIWoo."
It's been a long time since we've seen the Bajan beauty go back to her roots but it was sure worth the wait for this curly head of hair.
Turning her back on hair dye and unleashing the 'fro she was born with, we love this new natural Rihanna - but we wonder how long it will last before she's tempted to tint again.
Take a look at our gallery of Rihanna's hair history. Tweet us @sofeminineuk and let us know which is your fave!