If you fancy yourself as a bit of a makeup mastro then allow me to introduce the next trick for you to tick off your list: intricate AF lip art. Yep, while I sit here still trying to contour for the hundredth time, these MUA's (that's makeup artists to you and I) are showing off some serious skills, using their mouths as masterpieces to create everything from geometric prints to magical movie moments.

But wallflowers beware, if you do manage to master these designs for yourself, you're guaranteed to be the centre of attention - no question about it.
Here we've scoured Instagram all in the name of beauty, to find the most artsy and out there designs for you to marvel over. Just know that any cheeky smooching is suitably OFF the menu when sporting these adventurous looks, 'cos even if Ryan Gosling himself happened to proposition you, no dishy admirer is worth smudging these works of art for.

Better stock up on the glitter 'cos Saturday night never looked so sassy!
Check out these amazing lip art: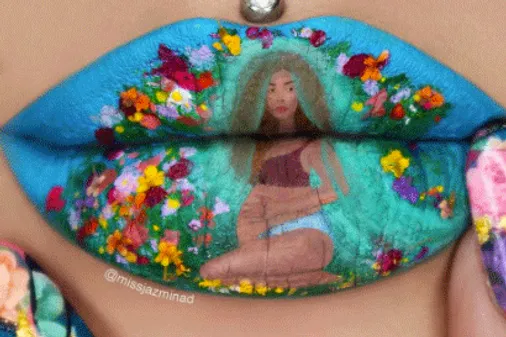 © instagram
Have you been inspired to try these designs out yourself? Tweet us your efforts @SoFeminineUK!
You Might Also Like:
Geode Lips Is The Show-Stopping Makeup Trend We Didn't Know We Wanted
Your Dream Lipsticks Have Just Dropped and They're The Prettiest Things We've Ever Seen
This Makeup Artist Creates Amazing Looks For Every Star Sign And It's Everything We Hoped For & More