Spritz yourself stunning with YSL Black Opium Eau de Parfum Spray from Fragrance Direct. It's gorgeous sultry scent will have you ready for anything Valentine's Day throws at you - be it roses, horse and carriage rides or romantic candle lit dinners!

RRP: £54.50
Trollbeads are our new favourite thing. With their elegant bracelets and brightly coloured beads, it's hard not to resist squealing at the thought of adding a new Valentine themed bead to your bracelet. Our favourite in the range is this sweet pink Trollbead named Baby Girl. Obsessed!

RRP: £35
MishLondon is here and it's making sure our nights are as snuggled and sweet as our blossoming love life. These jammies will send any girl into a swoon, but we particularly love the pastel blue numbers - an absolute classic!

Shirt: RRP: £45
Bottoms: RRP: £28
Give her a touch of class on the big day of lurve with the Molton Brown Gingerlily Pamper Gift Set. Word of warning though - with this you will ALWAYS come second in priority - right behind pamper time!

RRP: £53.00
Make her Marc Jacobs dreams come through with Decadence Eau de Parfum. Not only is the bottle like something Jay Gatsby would send to his beau, but it also spells just AMAZING.

RRP: £69.00
Available at: The Perfume Shop
This Olivia Burton English Rose Watch is the perfect Valentine's Day gift. Not only is it seriously classy, it will remind her how much you love her every time she looks at the watch face and sees those roses blooming. We could get poetic, but we'll hold back. Just know that your SO is guaranteed to be ALL ABOUT this one.

RRP: £80.00
A watch is all well and good, but what about the nails to match?! Whoever they may be, it's a truth universally acknowledge that every girl loves a good manicure, so why not treat them to a pamper sesh to give their nails a Valentine's Day makeover? We especially love the vibe in Muse of London, especially since they'll add little heart designs on your nails to give it them that extra something on the day of lurve!

RRP: £30-35
Give her the treat of gorgeous silky skin with the Braun Silk-epil 9 SkinSpa.

RRP: £179.99
Give her the gift MOST of us want every damn day - the chance to relax! Sorbet Salon's Achy Breaky Massage is the perfect treat let your loved one kick back and relax.

​RRP: £60 for 60 mins
You can't go wrong with a box of chocolates on V-Day can you? Give your gal what she REALLY wants this Valentine's, which is the chance to pig out on this box of super indulgent Godiva choccies.
RRP: ​£37
We'll let you in to a little secret: no girl can resist a bubble bath. It's in our DNA to love them. Just light some candles, plonk one of these heavenly bath mallows from Bomb Cosmetics into the water and relaaaax.
RRP: £2.24​
Our favourites for her: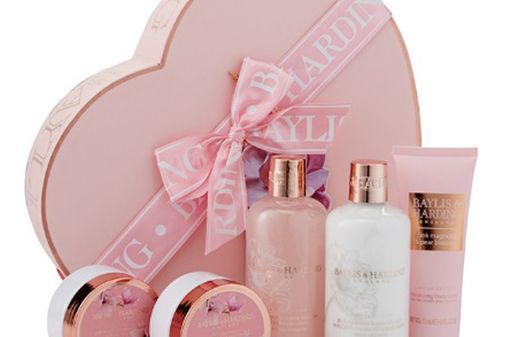 © https://www.moonpig.com/uk/Gift/beauty-gift-sets/Detail/beau146/
Baylis & Harding Large Heart Box Set - £25

​
Make him the man (or at very least the Khal) of the house with this Game of Thrones Khal Mug. Just so you know, this also means that you can buy yourself a Khaleesi mug. Win win.

RRP: £11.99
Give him the shave of his dreams (or finally force him to get rid of that hipster beard) with the Braun series 3 wet and dry shaver.

RRP: £99
Bring back the Eighties in the most modern way possible with this USB Mixtape. Putting on your favourite tunes, your BF can listen to the songs that remind you of him anywhere and everywhere. As long as there is a USB port, obviously.

RRP: £14.95
If your boy is a pop culture lover, give him the gift of art for V-Day. These minimalist prints use gorgeous block colouring and simple designs to bring your favourite films to life.
RRP: £49.99 for large print in frame
Give him a touch of sophistication with the Black Lizard Kensington Watch. This little beauty will automatically make ANY guy suaver, especially when accessorised with a suit (lovely!).

RRP: £129
Everything you want him to learn, he'll learn through the hilariously sarcastic new range of Ladybird books. We especially recommend 'The Husband.'
RRP: £6.99
Give him back his childhood (but on PS4 format, winning) with Street Fighter V for PS4. It won't be available till February 16th though, so you'd need to let him know it's on the way but totally worth the wait!

RRP: £41.99
Give him that gorgeous hint of musk with Hugo Boss The Scent!

RRP: £45
Available at The Perfume Shop
Ever shouted at your partner to stop driving like a maniac? Well this time you'll be encouraging them! The Top Gear Track Experience is every boy who loves his car's dream come true as they get to race around the track like a mad man (obviously pretending they are reviewing the reasonably priced car.)

RRP: between £45-£175
Our favourites for him: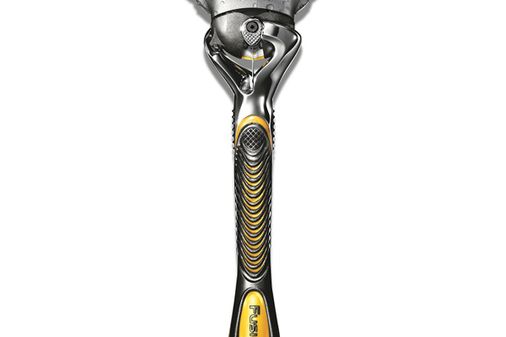 © http://gillette.co.uk/en-gb
Gillette Fusion ProShield Razor RRP: £12.00
What at you getting your partner for Valentine's Day?! Tweet us @sofeminineUK
You might like...
#TreatYoSelf Haul: Beauty, Fashion And Everything In Between

Competition: Win An Incredible EE BAFTA Goody Bag Worth £500!

Multiple Ear Piercings: The Cool Combinations You Need In Your Life