From bird poo facials to the bull semen hair treatment, Japan doesn't do beauty by half measures this much we know. But there has to be more to their glorious pores and voluminous locks than the weird and whacky. We're talking day in day out Nippon skincare staples.

Here's the age long beauty secrets Japanese women have been going cray over for centuries.
The rules to live by:
Don't forget your vitamin C
Go natural
Eat plenty of fish
Rice is basically the best thing ever
The sea is your best friend
Hydration is vital
You can never drink too much green tea
Always use an oil
Make time for YOU
And take time over application!
Get your Vitamin C
When it comes to their seamless skin tone, the Japanese swear by their daily dose of vitamin C. Adding this to your diet helps to break up melanin and remove pigmentation which means... a healthy, even complexion is just a few oranges (or a supplement or two) away. Buzzing!
Go local - use KOSÉ
Skincare powerhouse KOSÉ is the best kept anti-ageing secret in Japanese health and beauty. Infused with the Geisha's favourite ingredient, rice grain, they've created a whole range of products targeted at keeping skin silky smooth and line free. From cleansers, to softening serums and hydrating eye creams they've got anti-ageing covered from A-Z. We're sold.
Head over to blowLTD​ for all your KOSÉ buys and start winding back the years the Japanese way!
Know your beauty beans
One of the most ancient Japanese skincare traditions uses Adzuki beans to brighten and exfoliate the skin. Japanese women love to keep their skincare routines as natural as possible which is why they love to use Adzuki. By gently rubbing it on their face it helps to keep the skin blemish free. Now that we could get used to.

Packed with vitamins and minerals, this simple mineral mask can do wonders for a tired complexion. Use 3 tablespoons of crushed Adzuki or powder and 1 teaspoon of water or aloe vera gel.

Beauty in a blender? We're on it.
Fish therapy
The Japanese diet is one of the most beautifying in the world. Low in bad fats, rich in omega 3 fatty acids and crammed full of vitamins, they eat well and the results are clear to see.

Making fish your go to staple might seem like a chore but honey when you're glowing like a gold fish it will be totally worth it.
A whole new bath time
White rice makes up a large proportion of the Japanese diet. Not only is it a great source of carbohydrates but it has amazing healing benefits too.

Geisha used to bath in rice bran to soften their skin and treat their hair. So if you're looking for a natural and nourishing beauty solution here it is.
Under the sea
As well as fish, the Japanese diet contains plenty of marine algae such as sea kelp. This marine extract contains skin-enhancing nutrients, proteins and detoxifying acids that help to draw out impurities.

And it doesn't stop there. It's also loaded with omega 3 essential fatty acids and protects against free radicals. A step ahead of the ageing game? We've always got time for that.

Sebastian the crab was onto something. If it's a My Little Mermaid complexion we want, we've gotta take a hint from the deep blue.
Drink up
Green tea has endless health benefits from protecting your skin from sun damage to boosting your energy levels. Loved for its anti-inflammatory and antioxidant properties, the Japanese drink it by the bucket load and even use it directly on the skin to treat acne.

The most potent remedy known as Matcha in Japan is 100% natural. It's their skin superhero and it's fast becoming ours too.

Japanese lifestyle expert, Keiko Uchida can't get enough of it:

"Matcha is a finely milled, vibrant green tea powder made from the highest quality Japanese tealeaves. It contains a high vitamin C content – more than four times the amount found in an orange, so I've been told – and is well-known in Japan for helping people maintain a bright complexion.

"In fact, when I was a child, my tea ceremony teacher still had beautiful skin well into her 80s! It's easy to prepare – about half a teaspoon of powder to 100ml of boiling water, which is then mixed with a bamboo whisk in a bowl – and should be available from your local Asian supermarket."

Time to swap that 10 o clock coffee for something green we say.
Get between the sheets
It's not as racy as it sounds, honest. Oil-free and yet completely moisturising thanks to the high concentration of hyaluronic acid, these pampering sheet masks are full of goodness and infused with sweet smelling essence.

Hydration, collegen, whitening, brightening? Whatever your skin needs there's a Japanese sheet mask out there for it.
Application
Chizu Saeki, Japanese skincare guru and author of The Japanese Skincare Revolution, believes in getting to know your own skin and doing the work yourself. As much as it hurts, you'll need to put your dear clarisonic cleansing brush down for now.

It's massage and application techniques that are at the heart of her philosophy and being happy with the life you've lived rather than denying the years. She doesn't believe in anti-ageing, she advocates 'beauty ageing'. That a girl, spread the positivity.
Take time over YOU
There's a huge hot spring culture in Japan known as 'onsen'. Not only do they help promote feelings of physical and psychological well being, they also do wonders for your skin due to the healing effects of the minerals and thermal water.

Keiko adds: "I love the hot springs in Japan and try to keep a small piece of it with me at home using a DIY foot spa. I use one a few times a week for 15 minutes just before going to bed, putting a few drops of essential oil into the warm water, to help stimulate good blood circulation after a long day in front of the computer. It's the best thing for a good night's sleep!"
Oil up
Japanese women love to restore moisture balance with beauty oils, particularly multi-purpose Camellia oil AKA tea seed oil. Rich in collagen and vitamins A, B and E, it has revitalising powers for skin, hair and nails. Use it as a facial moisturiser, lip balm or cleansing makeup remover. The list is endless and you're flawless. How's that for a combo?
Shop for all the best Japanese beauty buys from KOSÉ now at blowLTD!

© Kose blow LTD
Japanese Beauty Secrets & Products: Get Beautiful Skin The Eastern Way
Know any must-try Japanese beauty secrets? Let us know @sofeminineUK
Check out these celebs with flawless skin: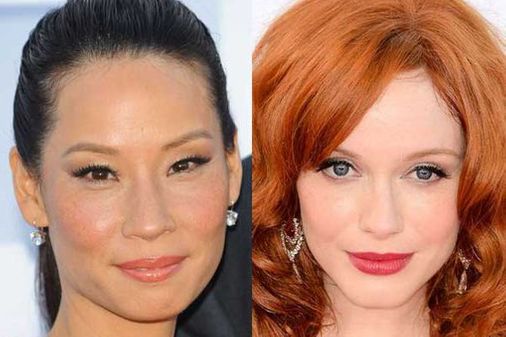 Perfect celebrity skin: Stars with flawless skin
You might also like:
blow LTD Review: The One Stop Shop For Fast Beauty?
Korean Beauty Secrets Every Girl Needs To Know