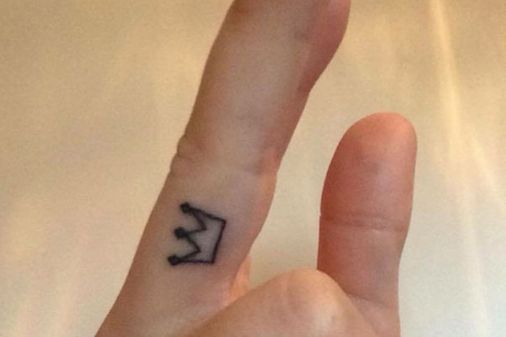 © Instagram
They say a picture says a thousand words and warts-and-all mummy blogger Constance Hall has pioneered a new Instagram movement in which she's encouraging women everywhere to have tiny crowns inked on their bodies as a permanent reminder of their Queen status.
Constance, whose written a book entitled 'Like A Queen' and is famed for her refreshingly realistic take on life as a mother with every post celebrating the strength of the female race through the struggles of parenthood, kick-started the tattoo trend when she shared a photo of one of her follower's royal new inking recently.
"One of our Queens got this tattoo to remind herself that she is a f*cking Queen even though she's struggling to conceive at the moment and on all sorts of hormone drugs. Still a Queen. Always a Queen. I wish her a world of luck and am inspired and thinking that maybe we all need crown tats?" was the caption which prompted the Internet sensation to get involved herself with hundreds of fans following closely behind her.
In her own words, Constance says the tattoo symbolises: "Being a Queen is not only a commitment to support the s**t out of other Queens but also one to yourself. To recognise your inner rad b***h and never stop loving her."
Women all over the globe have been quick to share evidence of their new bodyart on the photo-sharing app in solidarity with the modern-day feminist, offering us a world of inspiration. From one queen to another, I salute you.
Will you be joining the crown club? Let us know your thoughts on the positive trend at @soFeminineUK
You might also like...
This Breast Cancer Survivor Is "Taking Back Her Body" One Nipple Tattoo At A Time
Tattoo Artist Offers Free Body Art To Survivors Of Domestic Violence