One minute she was deep Malteser brown, the next she's pulling a Draco Malfoy. It's like magic. Ahem. Although, something tells us Kimmy K might have spent a good week in hiding before stepping out in the public eye with her bright blonde dye job.
So, what do the likes of us mere Muggles do when we want to dye our hair blonde? We got talking to Grant Badger, Technical Director at ColourNation Hairdressers to find out how it should be done.
Are there any hair types you would advise against going blonde?
Really dark coloured natural hair tones will have a very visible regrowth. The client has to be aware of this and be prepared for regular maintenance to keep the blonde looking fresh.

​Lighter hair colours can get away with regrowth more easily. It's still possible to achieve on darker hair and with accompanying skin tones it can look amazing but it is an investment look. It's not a one off treatment.
Our verdict? If you're lucky enough to have Kim's olive complexion, you'll be able to pull of anything in between subtle highlights #throwbackto2013 when she was rocking those sun-kissed tresses through to colour popping peroxide.

If you're an English rose, platinum hues can still work when teamed with a bright red lip a la Gwen Stefani but multi-tonal honey and caramel tones are your safest bet. Dark brows, blue eyes and bleach blonde hair always make for an enviable combo come summer.
How do you decide which shade of blonde will suit you?
We'd carry out a free consultation at the salon and look at skin tones to find a shade which we think perfectly suites the client. We stock over 200+ individual hair colours and can mix many more to ensure the client gets exactly the right shade of blonde on every visit to the salon.
Is it ever ok to pull a Kim K and go straight to platinum from deep brunette or would it be better to lighten the hair gradually over time?
It can be done but there has to be a balance between the lightness of the blonde and the condition of the hair. At ColourNation we always want to protect clients' hair health and will make it a priority to protect the condition of the hair. There's no point in having white blonde hair if it's like straw afterwards. That's why it's important for us to adapt our technique and colour to achieve the best blonde with minimum damage.

Going from such a dark colour to bright blonde is best done over a period of time or, if done in one session, it would need a lot of time to ensure that the the scalp is protected, hence the big cost involved. There is also a cost in treating the hair to maintain its condition, though you should expect the hair to have some damage and dryness.
What colour technique would you use to achieve this kind of look?
It would be a full head bleach and then a colour/toner.

1.Initial colour consultation
2. Wash
3. Bleach
4. Toner (depending on the colour desired)
5. Wash
6. Cut and blow-dry to blend and shape the look
7. Create the wow!
If we were going to attempt a DIY dye at home we would probably start off with something subtle. L'Oreal do a great product called Casting Sunkiss Jelly which naturally lightens hair gradually with sunlight. We tried it last year and it gave us gorgeous ombre ends.

For something a little more ode to Kim we'd look to buy two box colours of the same level and from the same brand. A dark golden blonde mixed with a neutral golden blonde for example. Don't mix shades that are drastically different and avoid blending ash and gold together as this could result in an odd colour.

Nobody wants to be THAT girl sat in the salon waiting for a colour correction!

Apply your colour to the ends first, working your way up to the roots and leave for the recommended time to develop. Leave for a further 10 minutes if you want lighter locks and wash off as normal.
How often do you need to dye it?
The colour should look great for 6-8 weeks but for those clients with naturally dark hair growth may start to show which means more frequent visits. Also a toner refresh might be needed after a few weeks to just brighten the colour and make it pop again.
It is damaging?
If done right it shouldn't damage your hair but a lot will depend on your natural colour and the previous condition.
Do you have any after care advise for keeping blonde hair bright and healthy?
Silver shampoo helps blonde hair keep its freshness. We always recommend this for clients. Alternatively we recommend a colour save shampoo and condition from Wella which will help prolong the colour by 10-20%.
Why is platinum blonde such a cool/in look?
It never really goes out of fashion. During the recession when money was tight many clients chose more cost effective colours like balayage - that's all changing again now and quality is back and people are investing in their colour again.
Have you seen a growth in clients requesting this look in the salon since Kim K's hair makeover?
We've certainly seen an increase in demand for full heads of highlights and for shorter hair styles. Short Hair styles require more care and attention to keep them looking their best. Regular visits are needed perhaps every 4-6 weeks to keep the cut looking sharp.
Sounds like going blonde is more than just a colour commitment. It's a whole new lifestyle.
Check out these blonde/brown transformations!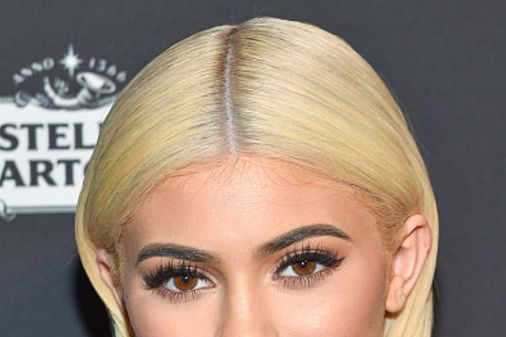 © Getty
Blonde v Brown: Celebrities who change their hair colour
Thinking of pulling a Kim K? Tweet us @sofeminineUK
You might also like:
20 Reasons Girls With Short Hair Run The World
What Is Balayage? The Hair Colour Trend You're About To Book In For
Bronde, Halo Highlights and Interlacing? The Hottest Hair Colour Trends Decoded!