Fashion week doesn't just mean major clothes envy, it means dangerous levels of hair envy too. That's why we're looking to L'Oréal Professional to get our tresses runway ready for SS15.
Introducing fashion's most wanted hairstyle trends on trial... every street's a catwalk right?
1. One trick pony
It was a pony show all round at SS15 fashion week. Whether you wanna go for the pulled out Parisian artist style, the sleek freak professional or bunched & boho, you're free to take the reins with this trend.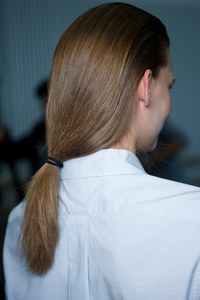 © Margaret Howell SS15
2. The fairytale ending
Romantic, low placed plaits paired with fresh faced, mascara-free makeup, that was the beauty memo backstage and we are all over it. Thicker up top and tailing off at the ends, this high end hairstyle lends itself to the early morning commute and cocktails after dark. Providing we're back at the stroke of midnight of course.

Note: No prince charming required.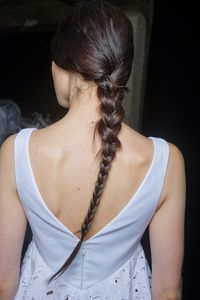 © Erdem SS15
3. Underdressed tresses
We love a hairstyle that gives us back those precious 15 extra minutes in bed and that's exactly the story that session stylists had to tell this season.

​They sent model after model down the catwalk with pillow-static buns and childlike texture. You know, that look that says, 'I've just pulled on that oversized fleecy knit that grandma made for me and haven't bothered to fix my hair.'

Schools out for summer but the hair regulations are going nowhere.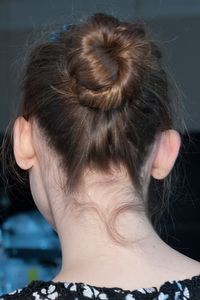 © Michael van der Hem SS15
4. Baby got back
Just when you thought those wisps of baby hair at the nape of your neck wouldn't come in useful, this beautiful braided chignon made it happen.

Every hair serves a purpose with this dreamy style spotted backstage. Experiment with soft strands over the ears or tug some volume at the braid for a beautiful slept-in finish. It will make you look innocent even if you aren't!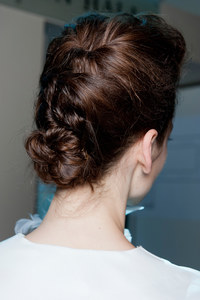 © Daks SS15
5. All that glitters
If there's one look every party girl needs to try this season it's glitter wefts…of course. Rainbow glitter streaks and tinsel tinted strands sparkled down the runway to create the morning after the night before effect. And we've all been there haven't we?!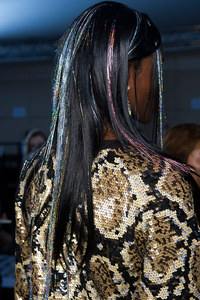 © Ashish SS15
What's your favourite runway to real life hairstyle? Tweet us @sofeminineUK
You might also like:
Making A Splash! Get On Board With The L'Oreal #WETLOOKUK Instagram Competition
The Best Hair Trends For Spring Summer 2015