Fresh skin, coral lips, shower hair... that much we can do. See, who says fashion week is only for exceptionally talented make-up visionaries - Pat McGrath, we're looking at you sister. Spring/Summer 2017 has given us all kinds of pared-down beauty trends to trial in real life (low maintenance girls rejoice) and there's even a few statement looks in there for good measure, too. There's no way we're gonna make it to Christmas without trying those Fendi glitter lips. Nah uh honey.
On the one hand, SS17 said to hell with the make-up rule book. If you want to do a smokey smouldering eye and a goddamn red lip, you go ahead and you do both. And on the other, it said hang on a minute, the mascara, the contour... the whole lot's gotta go. This season is about looking blissfully undone. Enter shower/wind hair, our new favourite excuse to roll out of bed as we are and claim that we are only doing this because it's a trend.
So dust off your top knot, put down your angled makeup brushes, SS17 is all about blagging the beauty game. Finally! We never did master the art of contouring without looking like Scar from Lion King any way.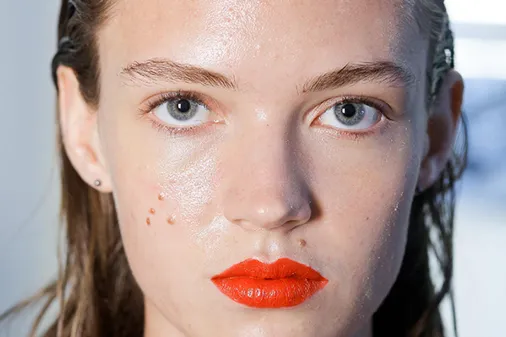 © Pixel Formula
Are you all over the glitter lips look? Tweet us @sofeminineUK!
You might also like:
A Guide On How To Use Makeup Brushes Like A Pro
​13 Contouring Crazes That Took It Way Too Far

​53 Of The Funniest Memes Beauty That Will Make Every Make Up Lover LOL