Does the thought of getting into a bikini fill you with fear? Girl, you need these beach hacks in your life ASAP!
Fake Yourself Slimmer
A good fake tan is like the beauty equivalent of Spanx, it makes you look slimmer. A St Tropez tan + a sexy two piece? That's a recipe for looking HOT right there.
Get Some Support
If you want to shrink your waist but have literally zero time left before that big reveal, just make sure your bikini has some strong support for your bust. Well supported boobs will make your waist look smaller, so hoist them up with an underwired bikini top and you'll instantly notice your shape will look slimmer.
Stand Tall
Sorting out your posture is key to making you look taller, slimmer and leaner. So next time you get up to get an ice cream, stand up straight - your bikini body demands it.
Hot Dog Legs
To put the 'hot' in your hot dog legs make sure hair removal is your number one priority. Lose the Bic razors for once and go for something more caring. Keep legs silky smooth by using shaving foam and a razor with a moisturising strip and don't forget to slap on that moisturiser. Prepped pins - check.
Sit Tight
Sat on the beach and a group of hot guys caught your eye? Sit with your knees drawn in toward your chest. Your legs will look slimmer, your tummy will look smaller and sitting up will mean you have a much better view of the boys too. Just slip on those sunglasses safe in the knowledge you look bikinilicious.
Pick The Right Shoes
Bare feet are perfect for the beach but if you're staying pool side and want to look your bikini best, try getting a pair of stacked sandals to saunter around in - your legs will look longer and your butt will get a boost too. Win win.
Sarong Style
If you're particularly self conscious there's no reason why you can't team your bikini with a pretty sarong. Tie it around your waist to emphasise your hips and you'll have an hourglass effect in a jiffy. They hide a multitude of sins - praise be to the sarong!
Sink The Bloat
No one feels good in a bikini when they can't see passed their food baby bump so it's best to avoid any carb rich foods for a few days before slipping into your swimsuit.

Pasta, bagels, fizzy drinks – nope! Swap them for lean protein to avoid feeling sluggish and totally un-sexy. It'll be hard but totally worth it. If you wanna know which foods are best for a flat tum we've listed them here.
Accessorise
If you want to take the drama away from your thighs and tum, jazz up that bikini with some bling. Whether it's with your favourite lippy, a dozen midi rings or a bold statement necklace, accessories are great for dressing up your beach wear and taking the focus off your fleshy bits.

Just make sure you take off your jewels before you go for a swim eh?
Tackle Body Acne
Sweat clogged pores can cause monster break outs all over your back, shoulders and chest, making those summer camis a distant dream. Use a body wash that contains salicylic acid such as the Murad Blemish Wash to penetrate deep into the pores and cleanse away bacteria.
Get Body Brushing
Give your skin the best foundation for sun lounging by brushing away all the dead skin cells. Work the dry body brush in gentle circular motions from the ankles up before you get in the shower. Follow with an exfoliating shower gel and a generous layer of coconut oil to nourish that brand new skin.

Oh and did you know, body brushing has been known to help reduce the appearance of cellulite. Deck-chair dimples don't stand a chance. Phew.
Bikini Blitz
If you wanna sunbathe in all kinds of positions getting a bikini wax is the way forward. Just make sure you get it at least three days before to allow for the downtime.
Find Your Dream Suit
Bikini shopping is no easy task but remember you can get away with a whole lot more simply because you're at the beach.

Ask yourself what you want to look like: Do you want to camouflage your tum? Make your bust bigger or accentuate your waist? Try on a variety of different styles and the one that leaves you contemplating a bikini selfie… that's the one to bag.
Get Summer Abs FAST
Getting down and dropping 50 ab crunches on the day of your beach trip will make little difference (mega proportions of disappointment) but a short seven-minute burst of tummy toning activity for 30 consecutive days? Winning.

Try jumping jacks, wall squats, ab crunches, high knees and planks in the morning and you'll have earned yourself a cheeky mojito.
Work Your Angles
You don't have to opt for the standard hot dog Instagram post, why not frolic in the waves or take the picture from slightly further up. Arch your back, twist your abs and get your perfect pins in the shot too. Basically do whatever Kim Kardashian does. Total beach babe.
And for those finishing touches? Remember these hacks!
Happy Feet
Whether you're jetting off for the week or just having a day out at the seaside, there's never been a better excuse to get your feet flip-flop ready.

Pretty sandals and cracked heels just don't go together so make sure you get yourself a salon appointment stat.

The best thing is no one will judge you for rocking a palm tree print because… it's sunny.
Shake The Sand
No one wants to jump in the sea any more than is absolutely necessary. It disturbs precious tanning/reading/relaxing time right? Pack some baby powder in your beach bag and sprinkle it on every time you wanna feel smooth again. Nows the perfect time to take that sand-free selfie...
Get Sunkissed Highlights
Simply squeeze some lemon juice onto your lengths before sunbathing for natural beach-kissed highlights. Citrus ombre at your service.
Condition Your Tresses
Avoid dry, sun-damaged tresses and sea salt knots by using a leave in conditioner to lock in moisture. It's like SPF for your locks.
Think Gorgeous
Remember that the bikini body reveal is only as stressful as you want it to be! Your body is already beautiful, as Gok Wan would say, "it's all about the confidence". Work your curves, strut your stuff and enjoy the feeling of having that holiday sun on your skin - winter will be here soon enough!
Check out our product recommendations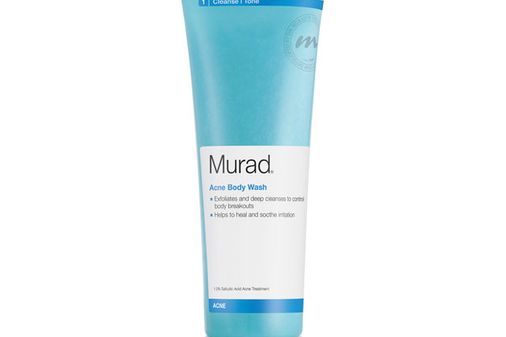 © Murad
Need To Know Beach Hacks: How To Look Good In A Bikini
What are your tips and tricks for looking bikini hot? Tweet us @sofeminineUK!
You might also like:
The 21 Fashion Mistakes You've Got To Stop Making
What To Wear If You're Petite: The Fashion Rules Every Petite Girl NEEDS To Know
Empowering Makeup Tutorial Shows Us How We Should REALLY Put On Our Face